For the ultimate experience
At Amsterdam Airport Schiphol they pay a lot of attention to (inter)national holidays and themes. Some examples are Christmas, Easter, Valentine's Day, and Mother's Day. But also Black Friday and Halloween. During these days a lot of brands pay more attention to their holiday branding. But it is also possible that you would like to create more awareness for your brand or product during the year.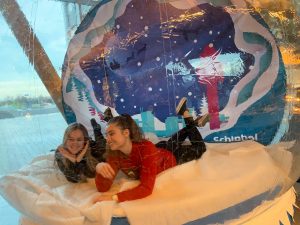 The Auxilium Travel Retail staff are employed for various promotions during various holidays, both before and after customs.
Theme concepts can complement promotions for specific days and periods of the year, as well as specific target groups. For example, Chinese New Year focuses on the Chinese consumer. Your activations can take place at various lounges and can be customized according to your request. This means that we can arrange a complete pop-up activation but the promoters also can roam around the airport freely if requested.
Auxilium Travel Retail wants to brainstorm with you on how best to showcase your brand/product in a creative and fun manner. If needed we can also take care of the entire concept from A to Z . For example, clothing, materials and such.