For all your brands, products and services
Auxilium Travel Retail's sales promoters will personally and actively acquaint your target group with your brand and/or product at Schiphol. This can be done for stores before and after customs. The employees of Auxilium Travel Retail are flexible, well-trained, experienced, commercial-minded, and proactive sales promoters who reflect your brand.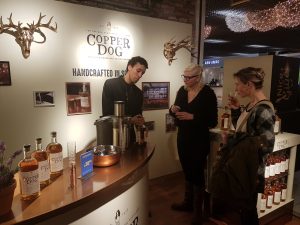 Thanks to their many years of experience, they know exactly how to approach the international traveler. For the stores, Auxilium Travel Retail provides follow-up, on-the-job training, refresher training, and coaching with (interim) customized reports and evaluations.
All the sales promoters of Auxilium Travel Retail at the airport speak Dutch and English fluently. In addition to these base languages, we also have teams who, among other languages, speak Mandarin, Russian, French, German, Spanish, and/or Portuguese.
Auxilium Travel Retail defines sales promotions as promotions, sales, sampling, and flyering. Our sales promoters have knowledge of and experience in the following areas: Liquor, Confectionery, Electronics, Cosmetics, Food and Non-Food.
Reference Leonidas
'' Leonidas has been working with Auxilium Travel Retail for many years and we have developed a great partnership. The team's support prior, during and after the activation events has been smooth and easy. We also appreciate their flexibility and on-going support, even in more challenging times.''